FINDING AUTHENTICITY THROUGH STORYTELLING: REFLECTIONS FROM A HIGH SCHOOL CLASSROOM
Keywords:
story-telling narrative, authenticity, secondary school, teaching, poetry, spoken word, oral traditions, reflexive teaching
Abstract
This piece is an auto-biographical reflection on my year-long experience creating a new course called Oral Interpretations and Expressions. Teaching the course allowed me to find an authenticity and identity in my work, which had been eluding me as I conformed to administrative norms in education. Through the practice of story-telling in spoken word poetry, my students and I found healing and transformation. This note invites the reader to consider how story-telling might be used in their own teaching spaces to empower a deeper connection to authenticity within themselves and their students.
ACCÉDER À L'AUTHENTICITÉ PAR LA COMMUNICATION NARRATIVE : RÉFLEXIONS D'UNE CLASSE AU SECONDAIRE
Cet article expose les réflexions tirées de l'expérience vécue lors de la création d'un nouveau cours intitulé Oral Interpretations and Expressions. Enseigner ce cours m'a permis d'accéder à une forme d'authenticité et d'identité qui m'échappait dans ma vie professionnelle lorsque que je me conformais aux normes administratives en éducation. Grâce à la communication narrative sous la forme de poésie parlée, mes étudiants et moi avons découvert la guérison et la transformation. Cette note encourage le lecteur à évaluer de quelle manière la communication narrative peut être utilisée dans leur pratique enseignante pour permettre une connexion plus profonde à l'authenticité, en eux et chez leurs étudiants.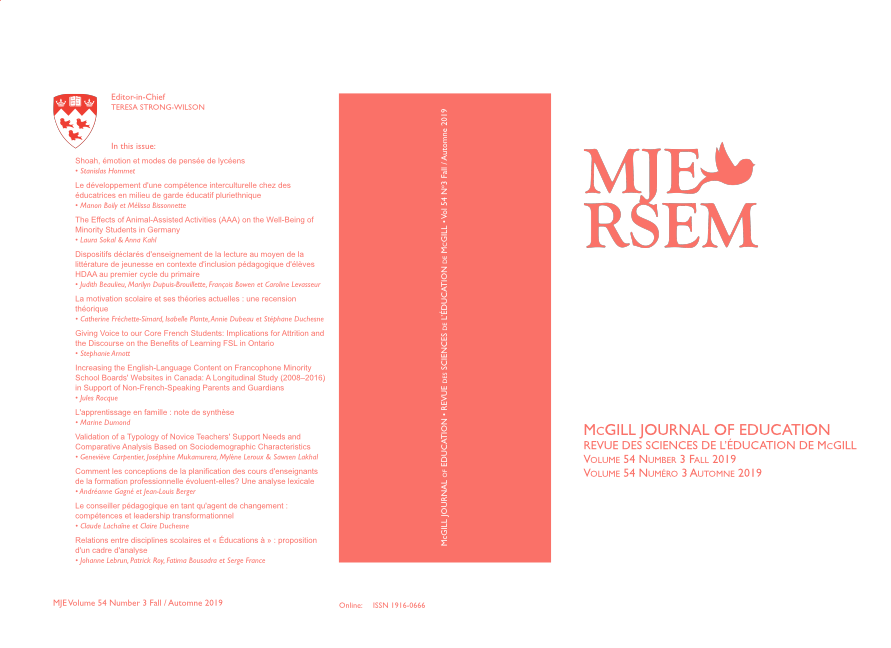 How to Cite
Liu, J. Y.-J. (2020). FINDING AUTHENTICITY THROUGH STORYTELLING: REFLECTIONS FROM A HIGH SCHOOL CLASSROOM. McGill Journal of Education / Revue Des Sciences De l'éducation De McGill, 54(3). Retrieved from https://mje.mcgill.ca/article/view/9685
Section
Notes from the Field
License
Those wishing to reproduce all or part of any material published on this website are asked to email mje.education@mcgill.ca for permission and to acknowledge the McGill Journal of Education as the original source.
Authors must transfer copyright of their article to MJE. Authors may use all or parts of their work in any future publication with the article's origin in MJE acknowledged in the customary manner.
A copy of our standard form may be requested from mje.education@mcgill.ca